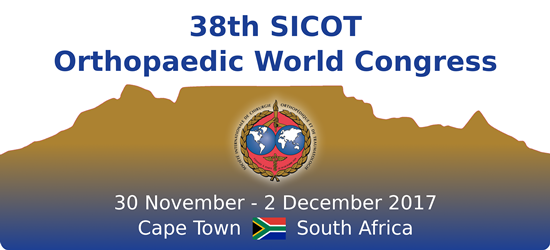 Registration
Online registration is now closed!
Please register on site.
---
---


What is included?
Registration fees for Congress participants include:
access to the

Opening Ceremony

scientific sessions

exhibition

e-poster area

Awards/Closing Ceremony

a Congress bag

the Final Programme

European CME Credits

a Certificate of Attendance
The fees do not include:
tickets to the SICOT Educational Day, Cooperative Course for Polytrauma Management, Welcome Reception, and African Night

lunches and beverages

optional tours

accommodation costs
Registration will only become effective once the registration form and payment have been received by the Congress Secretariat. Every participant who has completed the registration process will receive a registration number and a confirmation of registration.
Fee deadlines
Early fee: until and including 18 July 2017 - Due to high demand, the 'Early fee' deadline has been extended until 25 July, 23:59 Central European Time
Normal fee: from 19 July to 31 October 2017
On-site fee: from 28 November to 2 December 2017
Registration and payment deadline for presenting authors: 27 June 2017
Registration fees
Please click here for a full list of registration fees.
Payment
The SICOT Congress Secretariat accepts the following payment methods: Visa, MasterCard, Maestro, PayPal, and bank transfer. If you have already registered, please go to the confirmation email with the subject "Your SICOT Congress registration information" for more information.
Bank transfers: When paying by bank transfer, please include "CT17" and the order number which is displayed once you have filled in the online form and also in the confirmation email with the subject "Your SICOT Congress registration information". Kindly instruct your bank that all charges are at your expense.
---


Presenting Authors
IMPORTANT NOTE: The presenting author of an accepted abstract (oral and e-poster) must register and pay the congress registration fee by 27 June 2017 to have his/her abstract included in the Final Programme. The Congress Secretariat will not check if co-authors have registered. Presenting authors must register using the same SICOT account used to submit their abstracts.
SICOT Members
When logging in to register for the Congress, SICOT Members must enter the username and password used to log in to the Members' Area or they will not be able to access the reduced registration fees.
As a SICOT Member you can save money on your Congress registration fee. If you are not a member yet, click here to find out how you can join SICOT.
Friendship Nations: Special preferential membership dues of EUR 50 for Active Members (over 40 years old) and EUR 20 for Associate Members (40 years old and under) are currently available for the first year of membership for NEW members residing on the African continent. Click here to find out how you can join SICOT.
To benefit from the reduced registration fees for SICOT members, please apply for membership before the following deadlines:
- early fee: 7 July 2017
- normal fee: 24 October 2017
- on-site fee: 21 November 2017
- presenting authors: 20 June 2017
Please note that participants who register as Active Members or Associate Members will only be able to register once their 2017 membership dues have been paid.
It will not be possible to register again as a SICOT Active or Associate Member or to receive a partial refund if a participant has already registered as a Non-Member or Non-Member Trainee and payment has been received by the Congress Secretariat.
Non-Member Trainees
Participants who register as non-member trainees will only receive their confirmation of registration once they have supplied evidence that they are under 40 years of age AND actively engaged in a training programme. Please send a copy of your passport or birth certificate and a letter from your supervisor to [email protected].
Invited Speakers
Invited speakers should contact the Congress Secretariat to register.
Corporate Users & Groups
To register groups (Non-Member rate only), corporate users should create an account and select "Yes" under "Creating a corporate account?" in the General Information tab. Corporate users must supply the VAT (Value Added Tax)/Sales Tax number of their company/business. Once they are logged into the Corporate User Portal, they can make orders by clicking on the Corporate Registration tab. When the order has been paid, there will be a list of coupons available under the Corporate Registration List tab which will allow each delegate in the group to register for free through their own SICOT account. The same coupon cannot be used twice. For more detailed information, please visit your Corporate User Portal page or contact the Congress Secretariat at [email protected].
---


Social Programme
Information about the Social Programme can be found here.
"re-load" Recycled Bags
These special "re-load" bags made from recycled vinyl banners are available to delegates, via the congress registration form, for just EUR 10. "re-load" seeks to manufacture these bags by employing those who are not currently employed and uses some of the proceeds from the sale of the bags to sponsor community organisations, in particular youth football clubs. Read more...
---


Visas & Invitation Letters
It is the responsibility of the delegates to ensure that they have obtained a valid visa and travel documentation for themselves and any accompanying persons, in order to attend the Cape Town Congress. More information about visas and travel to South Africa can be found here.
Invitation letters: there is a link to an invitation letter at the bottom of the confirmation email which all participants receive once they have registered online. Please note that this letter is only accessible to participants who have paid their registration.
Cancellation & Change Policy
Participants who cancel their registration before 15 July 2017 will receive a 75% refund of the amount paid.

No refund will be made under any circumstances for cancellations received on or after 15 July 2017. This includes cancellations made due to visa refusal. Participants are therefore advised to start the visa application process well in advance.

No participant shall be entitled to change their registration from Non-Member (or Trainee) to SICOT Active or Associate Member once payment has been received by the Congress Secretariat.

In the event of cancellations of speakers or other changes in the Congress programme, no full or partial refund of the registration fee can be made.

A handling fee of EUR 35 will be retained in the event of cancellation of the 7th SICOT Educational Day and 24th Cooperative Course for Polytrauma Management before 15 August 2017. No refunds will be made for cancellations of these two events received after 15 August 2017.

A handling fee of EUR 35 will be retained in the event of cancellation of social activities before 15 August 2017. No refunds will be made for cancellations of social events received after 15 August 2017.

Name changes will incur a charge of EUR 50 per replacement. Name changes are not allowed after the normal registration deadline (31 October 2017).

Refunds will be processed after the Congress. Refunds can only be made via the original payment method. Refunds by bank transfers may incur processing fees from your bank over which we have no control.
---


Contact
For any further information about registration, please contact the Congress Secretariat at [email protected]