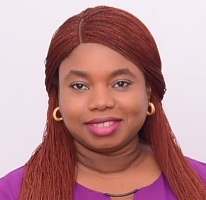 Temiloluwa Olufemi (Nigeria)
SICOT Associate Member
SICOT WiO Blog Lead
'Although orthopaedic surgery is traditionally a road less travelled by women, we are not alone anymore' Temiloluwa Olufemi, 2022
As a forward-thinking organization, SICOT decided to embrace diversity and inclusion along with other global corporations for improved collaboration. So, I received a mail from SICOT Head Office in January 2021 nominating me to join the website committee, and lead a newly created column on the SICOT website for Women in Orthopaedics. It was hoped this would elevate SICOT's digital image and maintain her relevance as the leading international orthopaedic organization.
This new initiative required all hands on deck so we set out to collate a database of SICOT women with help from the Head Office. It was alarming to find we had less than 70 SICOT women in orthopaedics (amidst over 2000 male members). Our committee with multitalented Ece Nur Cinar, hit the ground running with articles and videos from SICOT women across the globe to ensure the blog's success. In 2021, we featured women with varied backgrounds and orthopaedic specialties with awesome feedback. (Please find previous blogs using this link- https://www.sicot.org/blog/88775).
I have learnt that our stories while very unique and different, shared a striking resemblance: we walked alone. Trendsetters walking alone… pushing for our voices to be heard… personally driven to stay motivated and make an impact…..but walking alone.
Now, don't get me wrong. Being alone has its perks. Some of the world's best innovations were created by people who walked alone. But walking alone can be boring…. and stifling …. (and if we're being honest), tiring.
In December 2017, the SICOT e- Newsletter featured a special edition on Women in Orthopaedics where I wrote a bit about my journey (https://www.sicot.org/enewsletter-89-women-orthopaedics-4). Like most females in surgical specialties, I didn't stumble into orthopaedics. I made an informed decision. I vividly recall being wildly fascinated by orthopaedics during my medical school rotations, and once I chose the path, there was no going back.
But I was alone!
Alone.…. all through the residency training program, during preparations for fellowship examinations and even today, as a practicing consultant. I recall attending professional courses and conferences as the sole female delegate amidst a sea of male heads. It was even less interesting being the only black female orthopaedic surgeon at some international courses and meetings.
So it is beautiful to see the story changing.…(and heartwarmingly so!!)
At a recently concluded AO Alliance course on Paediatric Fracture Treatment for senior residents and consultants in Lagos, Nigeria we had 8 female participants from different subregions in the country. We even had multiple participants from the same training institutions. Most of the faculty were actually amazed since they had not seen such a large number of female orthopaedic surgeons and trainees at a single course (…and I hadn't either).
And this story resonates across countries and continents. The narrative is changing. We are walking together.
…..and we are not alone anymore!

Cross section of Nigerian Orthopaedic Women at the AO Alliance Paediatric Fracture Management course in Lagos
With the global paradigm shift towards diversity and inclusion, many organizations like SICOT, International Orthopaedic Diversity Alliance (IODA), and Women in Orthopaedics (WOW) have taken the lead in conversations to ensure increasing number of females and minorities in orthopaedics become the new norm (and not the 'old' anomaly).
I also learnt that we frequently shy away from telling our stories. When we started the SICOT WiO blog, we reached out to our database of SICOT Women but only few members gladly sent in their articles. Most members said they didn't even know where to start but with further research, I found summarily that women (particularly women in orthopaedics) were just too shy to tell their stories.
Recently, a female medical student in the United States decided to swap ortho for another specialty and a video was created to address medical students of diverse backgrounds choosing not to pursue orthopaedics. (https://vimeo.com/659413244/8132fbc1c5). Imagine if she read your story on this blog (or elsewhere)…..Imagine if she met you at work? Here's a true story: Recall I mentioned my fascination with orthopaedics as a medical student earlier? Well one lucky day, I assisted my professor in an ORIF with k- wires for a metacarpal fracture. During the surgery, he told me about Nigeria's first female orthopaedic surgeon in Lagos and I was hooked (#shedidsoIcan). Few years ago, a female surgical resident liked orthopedics but couldn't commit to the program because she hadn't heard of (or seen a female orthopaedic surgeon). She met me ….and as they say, the rest is history.
So we need to tell our stories!
Our stories might be similar but each one remains unique - individually and collectively. And our stories can be likened to our voices. Meghan Markle aptly motivates all in this quote 'Women do not need to find their voice, they should be encouraged to use it'.
The SICOT WiO blog encourages us, and gives an opportunity to use our voices by telling our stories in our own words. Special thanks to all our contributors who shared their remarkable stories with us in 2021. We are hopeful for more stimulating stories in 2022 and look forward to receiving your inspiring articles via [email protected], and [email protected].
Dear SICOT Woman, do remember 'The world is watching, the world is listening… and we're not alone anymore!