Patricia Moraes Barros Fucs (Brazil)
SICOT Active Member
The choice
Every medical student is highly impressionable yet laden with the choice of a specialty as a future career amidst loads of options. Mine was a relatively simple choice since I just followed my heart. I was really in love with orthopaedics as a medical student. I frequently visited the children's orthopaedic floor with a nurse who was my teacher during the first year and learnt about bandages, blood collection and preoperative work-up.
Hard work got me into the residency training programme and with overwhelming support from family, mentors and colleagues, I have made a steady progress till date. It has been the same medical school, the same orthopaedic department from residency with no looking back, and now on the other side as Brazil's only female full Professor in Orthopaedics.
2015 Full Professorship Exams
2015 Prof Dr Moacyr Fucs – my husband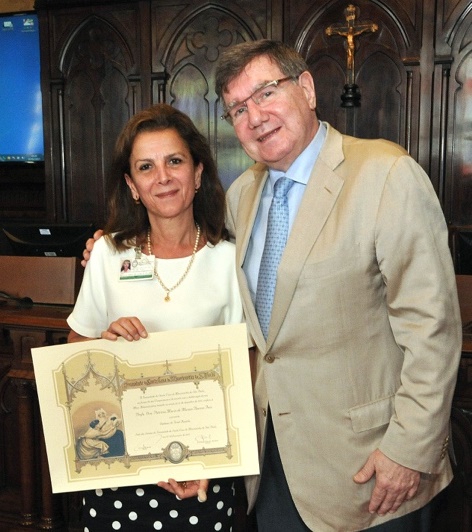 2017 Honorary Member at Santa Casa SP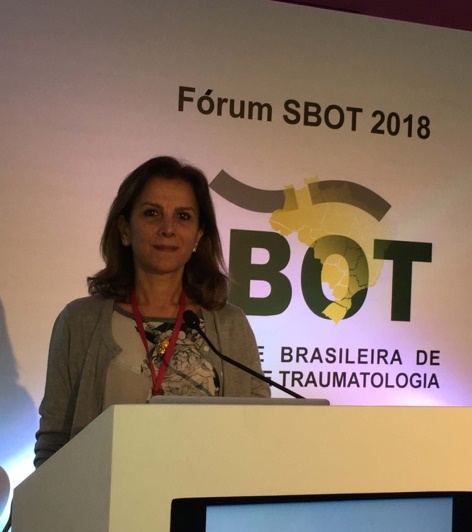 2018 SBOT President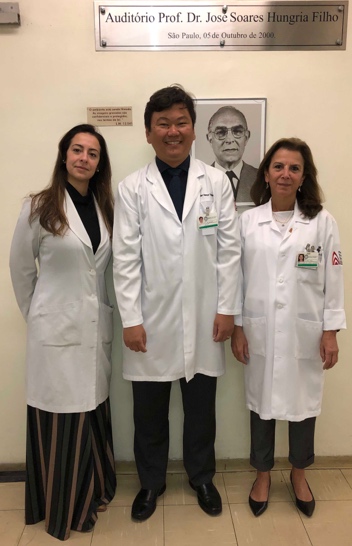 2020 Assistants in the Clinic
My journey
I joined the SBOT (Brazilian Society of Orthopaedics and Traumatology) in 1985 after approval in the board exams to be a full member and became an examiner 5 years later. I served on several committees and joined the board in 2009. My leadership roles include Secretary General in 2012, 2nd Vice-president in 2016, 1st Vice-President in 2017 and finally President (first female President) in 2018.
With a passion for paediatrics, I am a founding member of both the Brazilian Paediatric Orthopaedic Society (SBOP) and the Latin America Paediatric Orthopaedic Society (SLAOTI) established in 1998 and 2000 respectively. I have been a board member and served on several committees in both societies, progressing through the ranks till I became President of SBOP in 2003, and SLAOTI in 2008.
On the international scene, I joined the International Federation of Paediatric Orthopaedic Societies (IFPOS) in 2000, serving in different positions and presided over the 2004 Congress in Brazil. I worked to successfully make IFPOS the paediatric arm of SICOT and this later became the Paediatrics Subspecialty Committee in SICOT.
My SICOT history started long ago with my first fellowship at the DuPont Hospital for Children in Delaware. Thereafter, I became a SICOT member during the Montreal Congress in 1990 and it has been a very interesting journey seeing me serve in numerous positions till date. I was elected National Delegate in 1999, Examiner at the SICOT Diploma Examinations since 2004, worked on the paediatric programme since 2005 and chaired the Paediatric Committee till 2020. I became SICOT's first female Executive Committee member and served 2 terms as Treasurer from 2005 to 2011.
Working in SICOT was a huge task for me because, firstly, it took some time to earn respect from others but it also provided an avenue for me to learn especially as treasurer.
SICOT is a great society with a very important and special role in the orthopaedic world, as it joins every country, every subspecialty, all cultures and can help to spread knowledge to everyone. Again, SICOT provides an opportunity to learn more, and not only about Orthopaedics. All efforts must be employed to make SICOT stronger in every country, to share experiences, knowledge and promote the young generation of orthopaedic surgeons.
1993 SICOT Congress in Seoul - Pilar Zamudio awardees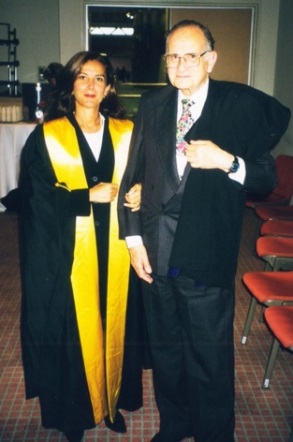 1999 SICOT Congress in Sydney with Professor Leonardo Zamudio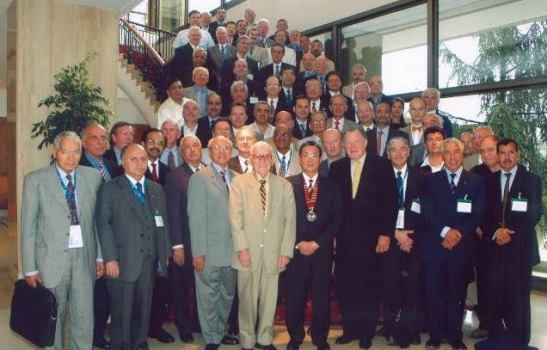 2005 SICOT Congress, International Council Meeting in Istanbul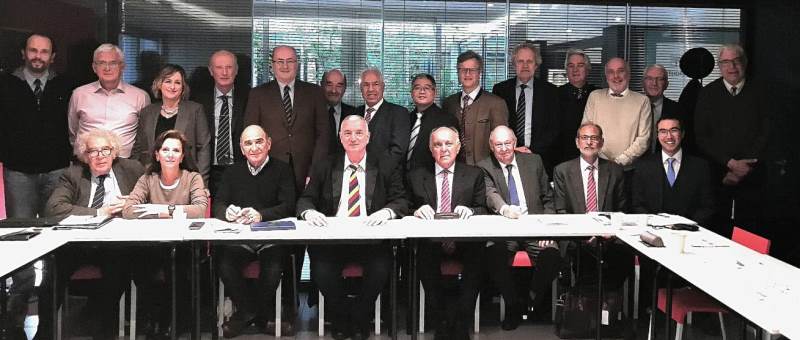 2019 Editorial Board Meeting of International Orthopaedics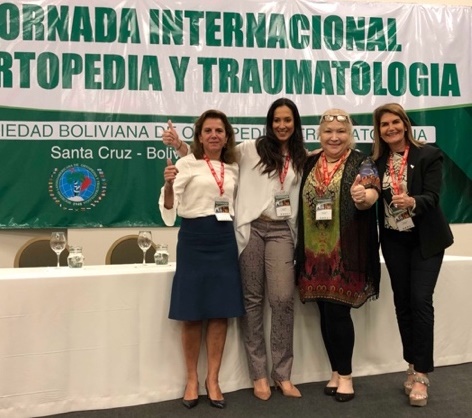 2019 Congress in Bolivia – the female invited speakers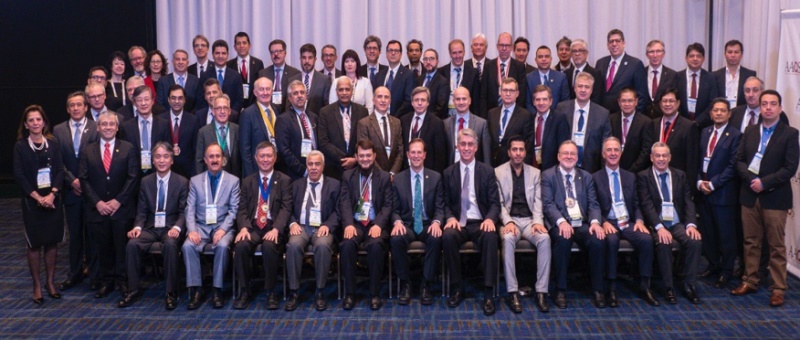 2018 International Presidents at the AAOS Annual Meeting
2019 SICOT Congress in Muscat – Paediatric Paper Award
The difficulties
It was and still is a long journey because it is necessary to coordinate all work activities with the family and home duties. I believe we all face difficulties throughout life, although for the woman the family obligations are still greater than for the man — after all, this is part of the learning of adult life.
One of the most important things I have learnt is that we need to seek and accept help from others; this is not fragility but wisdom.
The challenges
We as women cannot simply wait for equality. A look at the Brazilian numbers in 2020 revealed that 496,671 doctors registered with the Federal Council of Medicine, with 247,309 being female doctors – almost equal numbers. The trend is the same world over: there are increasing numbers of female doctors. However, amongst 15,598 orthopaedic surgeons and only 983 (6.3%) are women.
In SBOT, we have 14,302 members and only 810 female members (5.6%). These figures are better than in 2018 when we had less women. Residents in Brazil are 1,967 males to 149 females. We are not different from other societies as the American Academy of Orthopaedic Surgeons (AAOS) has 6.5% female members and had its first female president in 2019 while the British Orthopaedic Association (BOA) elected the first female vice-president last year.
Interestingly, both equality and equity are female words in Portuguese. As women in orthopaedics, we should not look for equality but strive for equity - same opportunities and same judgement from our peers. In the future, men and women from all professions (including orthopaedics) will have their work valued by knowledge and competency. When that time comes, we should not forget that we have reached this point as a result of the work begun long ago.
Female orthopedists' lunch during the 2018 SBOT Congress in Rio de Janeiro
My advice to young girls in Orthopaedics continues to be the same:
Be strong in your will to make it work. Study hard to be the best you can.
Be a good doctor, not only an orthopaedic surgeon.
Be gentle with the patients and families, give your time and listen more.
Be a good partner with your colleagues, you are different but with the same capability.
Love what you do, and in your heart you will find that you belong to Orthopaedics because Orthopaedics doesn't belong to you.
#womeninorthopaedics #wio #sicot #iwd #womeninsurgery
Read more Women in Orthopaedics articles