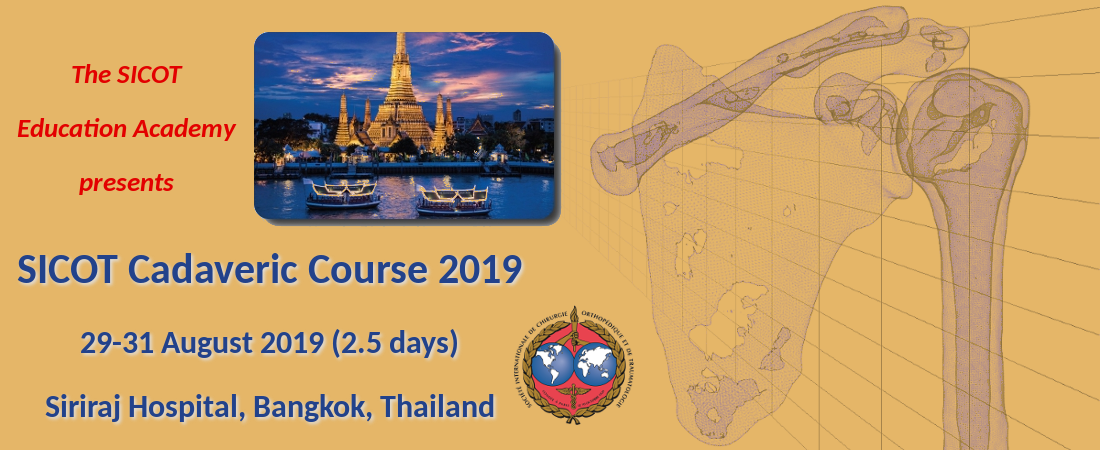 Welcome Message
With the success of the SICOT cadaveric courses held in previous years, it is our great pleasure to announce the SICOT Cadaveric Course 2019 which will be held on 29-31 August in Bangkok, Thailand.
This time the theme of our course is "Upper limb periarticular fracture and ligament reconstruction". The course is designed for practising surgeons who want to specialise in upper limb trauma. The course will provide an understanding of periarticular trauma over the upper limb. During the 2.5 day event, participants will learn, discuss and debate a highly diverse agenda on all aspects of upper limb periarticular trauma. Case discussions and highly practical hands-on cadaveric workshops will enable participants to learn from the experts' rich experiences, tips, and tricks.
We have an excellent venue in Bangkok and participants will enjoy both the educational content and the Thai hospitality.
Frankie Leung (Hong Kong)
SICOT Cadaveric Course Director

Tak Man Wong (Hong Kong) & Khongkhet Riansuwan (Thailand)
Course Chairpersons
Faculty
Yonghua Chen (China)
Konstantinos Ditsios (Greece)
Christian Fang (Hong Kong)
In-Ho Jeon (South Korea)
Tak Wing Lau (Hong Kong)
Ting Li (China)
Chanakarn Phornphutkul (Thailand)
Bavornrat Vanadurongwan (Thailand)
Dennis Yee (Hong Kong)
Programme at a glance

Fracture scapula

Acute and chronic ACJ injury management

Management of fracture proximal humerus

Fractures around elbow

Chronic elbow instability

Management of distal radius fracture

Salvage procedures for failed fracture proximal humerus

Management of post traumatic stiffness of shoulder and elbow
Cadaveric dissection
Scapula dissection

Surgical approach to clavicle and acromioclavicular joint

Surgical approach to proximal and shaft of humerus

Surgical approach to elbow

Exploration of nerves around upper extremities

Ligament reconstruction around ACJ and elbow

Approach to distal radius
Please click here to download the full programme.
Registration & Fees
Course fees:
EUR 850 for SICOT members

EUR 950 for non-members
Course fees include lectures, case discussion, wet lab, program book, certificate, lunch and coffee break.

Registrants should:
have an account on the SICOT website. If you do not have an account, please create one here.

e-mail the SICOT Head Office at [email protected] for course registration and payment details. Payment can be made by credit card.

Registration deadline: 10 August 2019
Places are limited so early registration is recommended.
Cancellation Policy
Date of cancellation

Refund (in %)

Before and on 10 August 2019

100%

Between 11 August and 20 August 2019 included

60%

After and on 21 August 2019
(including cancellations due to visa refusal)

0%

Hotel Booking
To be arranged by the participants. Please click here for proposed accommodation.