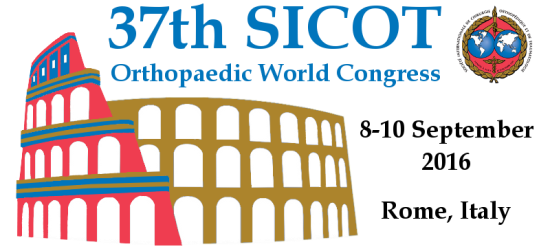 Registration
---
On-site Registration
The Registration Area is located in the main entrance lobby of the Rome Marriott Park Hotel & Convention Centre.
Opening hours:
Wednesday, 7 September
Thursday, 8 September
Friday, 9 September
Saturday, 10 September

07:30-18:00
07:30-18:00
07:30-18:00
07:30-12:00
After picking up their badge, participants can access the Tiziano Foyer where the following services are provided:
Congress Bag pick-up

Tickets for Social Events & Courses

Tours & Accommodation desk

Exhibitors' desk
---
---


What is included?
Registration fees for Congress participants include:
access to the

Opening Ceremony

scientific sessions

exhibition

e-poster area

Awards/Closing Ceremony

a Congress bag

the Final Programme

European CME Credits

a Certificate of Attendance
The fees do not include:
tickets to the SICOT Educational Day, 19th Cooperative Course for Polytrauma Management, Welcome Reception, Congress Dinner, and Golf Tournament

lunches and beverages

optional tours

accommodation costs
Registration will only become effective once the registration form and payment have been received by the Congress Secretariat. Every participant who has completed the registration process will receive a registration number and a confirmation of registration.
Fee deadlines
Early fee: until and including 15 June 2016 (extended to 19 June due to high demand)
Normal fee: from 16 June to 8 August 2016
On-site fee: from 7 September to 10 September 2016
Registration and payment deadline for presenting authors: 23 May 2016
Registration fees and Value Added Tax (VAT)
Please click here for a full list of registration fees. SICOT is legally obliged to charge Italian VAT at 22% or 10%. If you are VAT-registered in Italy or if a VAT-registered company based in Italy is paying your registration and needs an invoice, please fill in the registration form and contact the Congress Secretariat at [email protected]. PLEASE DO NOT pay the registration fee after filling in the form.
Per favore, non pagate la registrazione se avete una partita Iva registrata in Italia o se un'azienda con partita iva registrata in Italia paga la vostra registrazione e necessita di una fattura. In questi casi, per favore, contattate la segreteria del congresso all'indirizzo [email protected]
Payment
The SICOT Congress Secretariat accepts the following payment methods: Visa, MasterCard, Maestro, PayPal, and bank transfer.
Bank transfers: When paying by bank transfer, please make sure that you include "ROM16" and the order number which is displayed once you have filled in the online form and also in the confirmation email. Kindly instruct your bank that all charges are at your expense.
---


Presenting authors
IMPORTANT NOTE: The presenting author of an accepted abstract (oral and e-poster) must register and pay the congress registration fee by 23 May 2016 to have his/her abstract included in the Final Programme. The Congress Secretariat will not check if co-authors have registered. The deadline for changing the presenting author of an abstract through the abstract submission system is 23 May 2016.
SICOT Members
When logging in to register for the Congress, SICOT Members must enter the username and password used to log in to the Members' Area or they will not benefit from the reduced registration fees.
As a SICOT Member you can save money on your Congress registration fee. If you are not a member yet, click here to find out how you can join SICOT.
Special preferential membership dues of EUR 50 for Active Members (over 40 years old) and EUR 20 for Associate Members (40 years old and under) are currently available for the first year of membership for NEW members residing in Italy. Click here to find out how you can join SICOT.
To benefit from the reduced registration fees for SICOT members, please apply for membership before the following deadlines:
- early fee: 7 June 2016
- normal fee: 1 August 2016
- on-site fee: 1 September 2016
- presenting authors: 20 May 2016
Please note that participants who register as Active Members or Associate Members will only receive their confirmation of registration once their 2016 membership dues have been paid.
Non-Member Trainees
Participants who register as non-member trainees will only receive their confirmation of registration once they have supplied evidence that they are under 40 years of age AND actively engaged in a training programme. Please provide the Congress Secretariat with a copy of your passport or birth certificate and a letter from your supervisor.
Invited Speakers & Examiners
Invited speakers and examiners should contact the Congress Secretariat to register.
Groups
To pre-register groups of over 10 participants, please contact the Congress Secretariat.
Companies
Under EU law, companies which are registering participants and are located within the European Union must supply their VAT (Value Added Tax) number.
---


Social Programme
Information about the Social Programme can be found here.
Sports Programme
Information about the Sports Programme can be found here.
---


Visas & Invitation Letters
It is the responsibility of the participant to ensure that he/she has obtained a valid visa and travel documentation for him/her, as well as any accompanying persons, in order to attend the Rome Congress. For further information about visa requirements for entry into Italy, please click here.
Cancellation & Change Policy
Participants who cancel their registration before 15 June 2016 will receive a 75% refund of the amount paid.

No refund will be made under any circumstances for cancellations received on or after 15 June 2016. This includes cancellations made due to visa refusal. Participants are therefore advised to start the visa application process well in advance.

No participant shall be entitled to change the participant category of their registration from Non-Member (or Trainee) to SICOT Active or Associate Member once payment has been received by the Congress Secretariat.

In the event of cancellations of speakers or other changes in the Congress programme, no full or partial refund of the registration fee can be made.

A handling fee of EUR 35 will be retained in the event of cancellation of social activities before 15 July 2016. No refunds will be made for cancellations of social events received after 15 July 2016.

Refunds will be processed after the Congress. Refunds can only be made via the original payment method. Refunds by bank transfers may incur processing fees from your bank over which we have no control.
---


Contact
For any further information about registration, please contact the Congress Secretariat:
SICOT aisbl
Rue de la Loi 26 - b.13
1040 Brussels
Belgium
Tel.: +32 2 648 68 23
E-mail: [email protected]