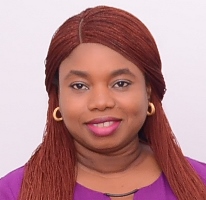 ​Temiloluwa Olufemi (Nigeria)
SICOT Associate Member
SICOT WiO Blog Lead
Diversity, equity and inclusion have caused a paradigm shift worldwide. Sadly, most organizations only pay lip service by 'talking the talk' without 'walking the walk'. As the leading international orthopaedic organization, SICOT featured the inaugural diversity symposium at the 2022 SICOT Orthopaedic World Congress (OWC) in Kuala Lumpur with resounding feedback.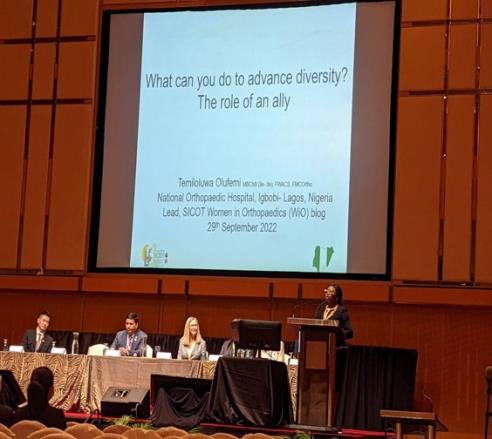 The mission of SICOT is to promote the advancement of the science and art of orthopaedics and traumatology at an international level, in particular for the improvement of patient care, and to foster and develop teaching, research and education. It maintains the philosophy that orthopaedic education should be available, accessible and appropriate for surgeons no matter their background, culture or resources.
The SICOT OWC Kuala Lumpur 2022 was a groundbreaking Congress with many notable 'firsts' thanks to the hard work done by Scientific programme team ably led by phenomenal Margaret Fok as Scientific Programme Chair.
| | |
| --- | --- |
| Margaret Fok giving the Welcome address as Scientific Programme Chair | Members of the Executive Committee at the Opening Ceremony |
The inaugural SICOT Diversity symposium, in partnership with the International Orthopaedic Diversity Alliance (IODA), held on September 29, 2022. It featured a truly global panel of leaders, and was moderated by Margaret Fok (SICOT Executive Committee and Congress Scientific Programme Chair) and Vikas Khanduja (SICOT President Elect).
The session started with Mohit Bhandari's truly insightful talk on the diversity of research in orthopaedics, Jennifer Green gave an introduction to IODA with highlights on global diversity initiatives, Jamal Ashraf discussed the essential role played by organizations and leadership in improving diversity, Temiloluwa Olufemi emphasized the pivotal role of an ally in advancing diversity and Kelvin Cheung gave a resident's perspective on diversity as a trainee in Hong Kong. The session was very interactive and received positive feedback from participants in attendance, who received an IODA badge as well.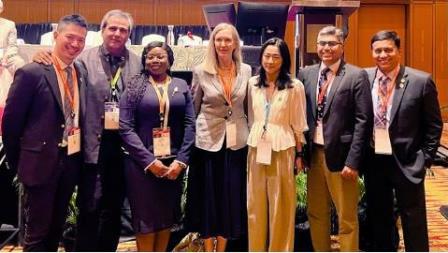 (left to right in photo): Kelvin Cheung (Hong Kong, Trainee), Mohit Bhandari (Canada, Past President COA), Temiloluwa Olufemi (Nigeria, Lead SICOT WiO blog), Jennifer Green (IODA President), Margaret Fok (Hong Kong, SICOT Executive Committee & Scientific Programme Chair), Vikas Khanduja (UK, SICOT President-elect) and Jamal Ashraf (India, Second Vice President APOA)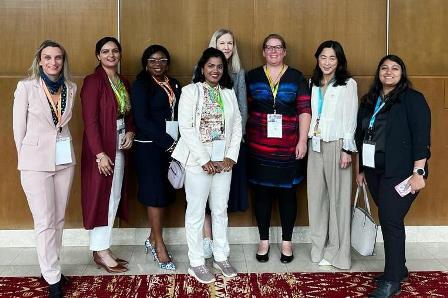 Some SICOT women at the Diversity Symposium (left to right in photo): Tatiana Guerschman (Brazil), Ravisha Bhardwaj (India), Temiloluwa Olufemi (Nigeria), Jennifer Green (Australia), Sonja Cronenberg, (Switzerland), Margaret Fok (Hong Kong), and Shiuli Dasgupta (India)

Sequel to the resounding feedback from the inaugural diversity symposium, the 2023 SICOT OWC will feature not just one, but……….. two symposia by IODA and Asia Pacific Orthopaedic Association Women's Advocacy (APOA WAVES) with details below: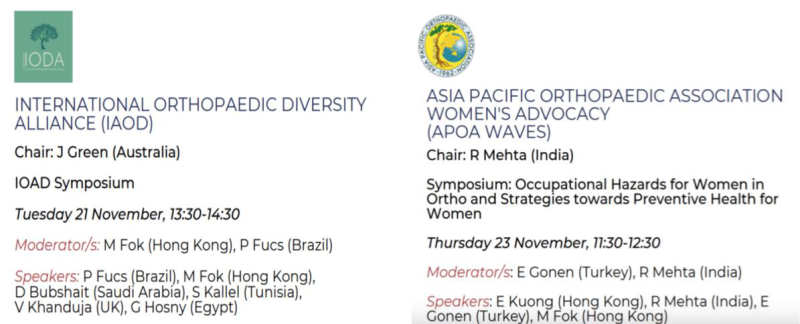 Dear Woman in Orthopaedics, need some extra motivation to attend the 43rd SICOT OWC in Cairo? Look no further!!! In addition to a well packed scientific programme, you don't want to miss these diversity symposia. Look forward to seeing you in Cairo!!!